Bapacho
Your local baker. Online
Client: Koninklijk Zeelandia Group b.v. (KZG)

KZG is an independent international producer of ingredients for bakers and patisseries. Their headquarters in Zierikzee, Zeelandia employ about 3,000 people worldwide.
The Challenge
Create an online platform for bakers, patisseries and chocolatiers to help them grow their online presence, add a new sales channel and keep functioning throughout the 2020 and beyond.
An effective platform to help bakers through the 2020 crisis and 
increase the digital footprint of the bakery and patisserie industry.
A powerful and scaleable platform developed and going live in 7 countries, in a few months. B2B and B2C marketing plan, with onboarding tools for merchants and a go-to-market strategy.
Bapacho is off to a flying start. In the first wave, we brought the solution to 7 countries.
An effective collaboration between the INQA Digital team, the Zeelandia HQ team, the local Zeelandia marketeers and sales agents and the onboarded bakers ensured a successful launch of the platform. More and more bakers are actively working on their shops, and the first consumers are finding their way to the website and the app.
"I'm so proud we brought this from an idea to brand-new platform in such a short time."
In the service design phase for Bapacho, we conducted several workshops to find our target customer. We developed several consumer and baker personas, matching with their respective customer journeys that were used in all marketing efforts.
" In the early service design stage, we started with the customer. Listening to their needs & problems in research, then synthesised into personas and co-create in workshops together with our clients. "
Based on the findings of the service design phase, we start with our "pressure cookers". In a very short period of time we create high-level designs and prototypes of the end-product. This allows us to do quick tests to see if we are going in the right direction. In this phase we can make use of crowd-testing.
"The best thing about rapid prototyping is the speed of the feedback."
We don't just develop. We only develop with purpose and based on a validated design. The rapid prototyping phase is perfect to gather feedback. We create mock-ups and clickable prototypes based on the service design phase. These mock-ups and prototypes generate invaluable feedback and help us to continuously refine our customer journey and, consequently, the user stories we use for the build of the product. 
To deliver the digital product, we work in sprints of 2-4 weeks. In these sprints we define, design, build and test parts of the product. Prioritization and fast iterations based on client feedback make sure we only build what matters at that moment.
The product owner is key in this phase of the project.  Typically, this is an experienced person in the clients team that really "owns" the product. This person is key in prioritization of features to make sure the digital product is ready for market as soon as possible. On request, INQA Digital can provide an interim, dedicated product owner.
" We implemented automated testing to ensure the stability of the platform at all times."
After bringing live the Minimum Viable Product, we started the roll-out to an initial 2 countries: Romania and Greece. Our roll-out manager was in daily contact with the local marketing teams, the websites were fully translated and User Acceptance Tests were organized and held.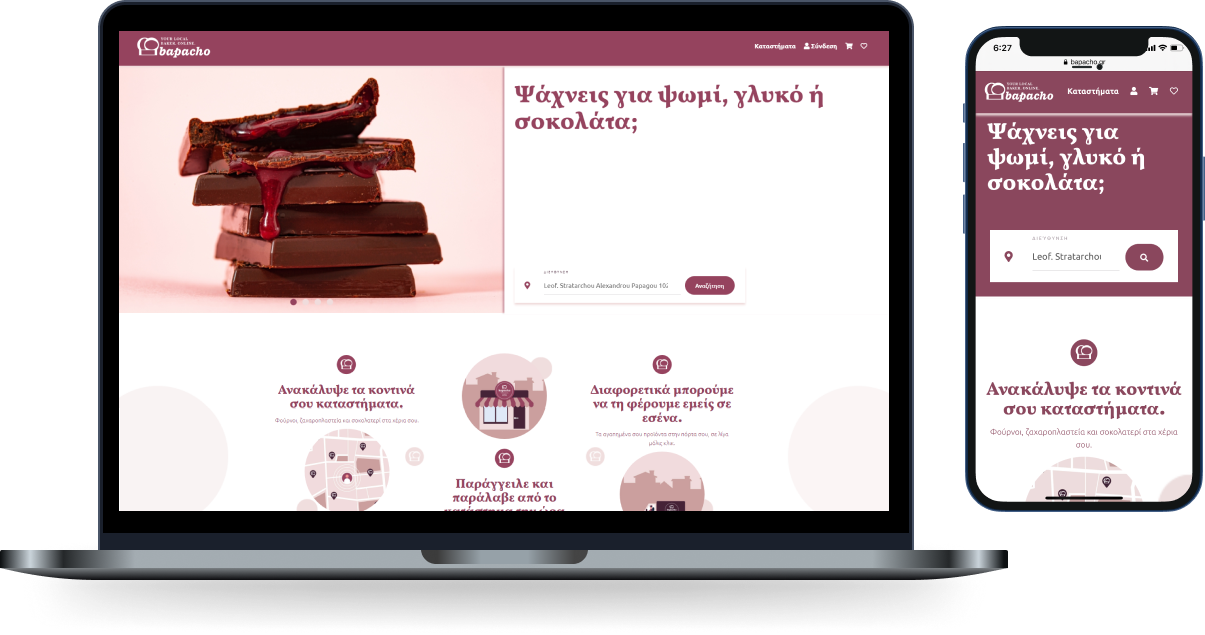 After the initial roll-out to Greece and Romania, the team developed an industrial implementation approach which made it easier to roll-out to the next countries.
With 7 local versions of the platform live, it was time to start bringing Bapacho to the public! While keeping in mind the early phase of the platform, INQA Digital always makes sure to lay the foundations for a scalable marketing approach.  We started with small, localized marketing activities offering the possibility to test and learn without huge budgets. Another great example of the hyperlocal approach: a great combination between local marketing efforts through merchant activation & global marketing and branding through social media, content marketing and SEO.
Let us help you
build your digital brand
There are few things we get more excited about than to launch new digital products! Is your organization in the early stages of the transition to digital, or are you simply looking for a team of professionals to work on one of your latest projects? We are here for you!